Anonymous hacktivist latest campaign against the ISIS.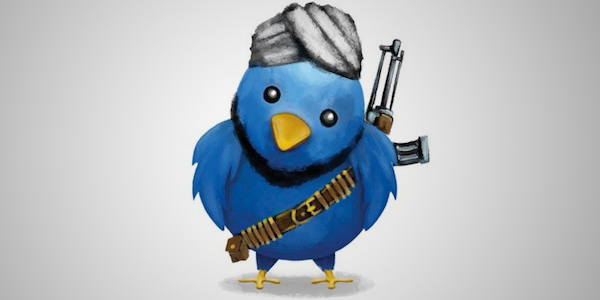 A new list of  26,374 Twitter accounts potentially associated with Islamic State has been released today.
A "cybersecurity advocate" who according to Medium previously worked with the Anonymous hacktivist group, on Thuesday morning released a new list of more than 26,000 Twitter accounts that allegedly have links to ISIS. Hacktivist, who works under the pseudonym Xrsone, said the accounts belonged to ISIS militants and supporters and encouraged readers to take a moment to view the accounts. It follows the release earlier this month of a list of 9.200 Twiter accounts that may be associated with ISIS, highlighting the ever-growing problem of the social media platform being used to spread extremist propaganda and recruit members.
Although the release is aligned with campaigns carried out by the Anonymous hacktivist, such as #OpIsis and #OpIceIsis, the creator of the database and those involved in the list's release claim to not be part of that group. As part of the latest release, IBTimes UK has been given exclusive access to the database and the tools used to mine Isis data, described by its creators as a "social media war machine". At the time the database was released on 30 March, the database was tracking 26,374 accounts, 10,408 of which were still active.
XRSone spoke out to explain how the database is able to track both active and suspended accounts, while constantly updating with new accounts suspected to be linked to Isis and its supporters. The accounts on the new list were obtained using a scraping technology that pulls links, phrases and keywords from known propaganda accounts and matches them against other Twitter users. It also goes through the followers and following lists of existing ISIS-linked accounts.
The full database that was shared showed that more than 30 of the accounts had over 100,000 followers, while around 2,200 accounts had more than 1,000 followers. Due to the size of the database it has not been possible to verify the exact number of accounts that are posting content of an extremist nature. However, its developer pegs its accuracy at 80% to 90%. The creator of the database, a US-based programmer who wishes to remain anonymous, worked with cyber counter-terrorism activist XRSone to make the latest list public and raise awareness of Twitter's use as an Isis recruitment platform.
By inputting account names known to be associated with Isis, the database is able to autonomously scrape through new Twitter account names that are similar to the ones already suspended or deleted. This picks up on the tactic used by Isis supporters of creating new accounts just one letter or digit different from previous accounts. 
"Its always important to say these aren't the accounts of just ISIS militants; these are people promoting and supporting it." Patrick Skinner, director of special projects for the Soufan Group, a security intelligence agency, told Newsweek. "With a scraping tool, there will be a lot of false positives in the list–academics, journalists, those interested in the topic."
Skinner warns that the next frontier in cyber security against the Islamic State will be social media accounts that walk a fine line on Twitter's terms of service. "Beheading videos are easy to spot; they appeal to a psychopathic fringe. But there are people who can skirt the terms of use and still be effective," Skinner said for Newsweek.
Accounts which do not contain graphic images or overt propaganda messages, were the true danger.  "People that can convince someone online, while maintaining those terms of use, to get a person to Syria, that's a true recruiter. That will be the next challenge."